I recently read a great book on dividend investing called The Little Book of Big Dividends. Its a must read for every dividend investor. It has something for everyone looking to learn more about great dividend stocks.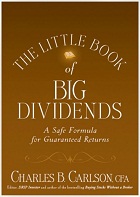 One of the best things about this book is that it's up to date! It was just released two months ago so the author, Charles Carson, covers the decline of 2008 and the slight recovery of 2009. It serves as a refreshing option to the dated books on the market.
Carlson starts off by explaining why now is a great time to be a dividend investor. Tax rates are low, yields are high, and interest rates don't compare to even the most boring dividend stocks out there. But not all yields are created equally. There are many factors that must be considered before you pick the right dividend stock to invest in.
The stock picks and dividend analysis in this book make it worth the sticker price. I'm going to highlight a few of my favorite parts without giving away too much of the content.
Find Big and Safe Dividends
Dividend investors are prone to making a common mistake, buying the biggest yield they can find and assuming it's a safe investment. The annual yield is only a part of the investment equation but many investors base their entire buying strategy on the yield. Dividend safety, increase in the stock price and dividend growth potential are all important factors to consider. Carlson does a great job explaining why investors need to find good stocks with solid fundamentals. The BSD formula helps filter out the winners from the losers.
The BSD Formula
The BSD (Big Safe Dividend) formula is Carlson's own dividend system that he uses to to help us find great stocks to buy. I won't reveal the formula since I'm sure Charles wouldn't appreciate it, but if you buy the book you an see the formula that creates a list of top dividend stocks to buy. Its a really good resource to help you find solid investments with good earnings an a history of increasing dividends. Every dividend investor will benefit from using this tool.
Cash Flow
Dividend stocks have so many benefits. They provide a yield to hedge against inflation and slow stock growth. They also produce income on a quarterly or monthly basis. Many people moving into retirement are looking to dividend stocks to help fund their monthly expenses. Carlson shows his readers how dividends can be used to generate a steady stream of income for retirement or general wealth building. Using the principles he lays out in the book, its reasonable to think you can build a steady stream of income that will last for many years.
Amazon is selling the book for 33% off, buy it here: The Little Book Of Big Dividends
https://www.dividendstocksonline.com/wp-content/uploads/2018/10/topdivlogo.png
0
0
Staff
https://www.dividendstocksonline.com/wp-content/uploads/2018/10/topdivlogo.png
Staff
2010-05-17 07:23:26
2011-01-03 18:09:20
Big Dividend Investing