RPM is consistently one of the top rated stocks on our best dividend list because of its incredible dividend history and fundamentals. Today RPM announced that it will pay a quarterly dividend of $.215 on July 31st with an ex-dividend date of July 11th. This is the 4th consecutive quarterly dividend of $.215 from RPM.
For the past 5 years RPM has increased its quarterly dividend in the 4th quarter. We are expecting the same result this year as RPM continue to drive growth with solid earnings. Over the last few years the company has increased its dividend by about 5% per year. Using those numbers we can expect the annual dividend to go from $.8650 in 2012 to $.8850 in 2013.
RPM Dividend Fundamentals
RPM has been paying dividends to shareholders since 1969 and has increased its dividend for 39 consecutive years. The company has a 5 year dividend growth rate of 4.5% and a payout ratio of 55%. Over the last 3 years the company has increased its net income by 55% and currently has a cash flow yield of 4.14%. Even better than those solid numbers is the recent stock performance. Over the last 12 months the stock is up over 18%. Add in the dividend and the total return exceeds 20%. The solid dividend fundamentals and performance are what help RPM tie for the rank of #1 on our top 100 dividend list.
Here's a look at RPM's dividend history over the last 5 years: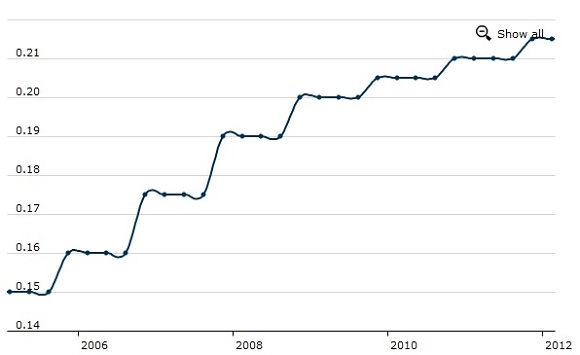 RPM is a specialty chemical company that makes specialty paints, sealants, adhesives, coatings and roofing systems. Find more information about RPM and other basic materials companies in our basic materials dividend stock section.
https://www.dividendstocksonline.com/wp-content/uploads/2018/10/topdivlogo.png
0
0
Zach Ramsay
https://www.dividendstocksonline.com/wp-content/uploads/2018/10/topdivlogo.png
Zach Ramsay
2012-07-03 12:02:05
2012-07-03 12:02:05
RPM International (RPM) Sets Up For A Dividend Increase Next Quarter