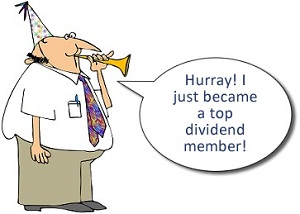 Proctor & Gamble is one of the oldest surviving companies in the United States. The company was founded by William Procter and James Gamble in 1873. There are only four companies larger than Proctor & Gamble in the United States. The company boasts about how its market cap is larger than the gross domestic product of nearly 200 countries. Today, the company services over 4 billion customers throughout the world.
The company netted over $13 billion dollars in net income last year alone. That surpasses the revenue of the majority of American companies. The company is an earnings giant grossing nearly $80 billion dollars in revenue last year. Proctor & Gamble has 22 brands that each generate over a billion dollars a year for the conglomerate. These brands include Gillette, Pringles, Duracell, Olay, Old Spice, Tide, Pampers, Head & Shoulders, Crest, and Dawn.
Proctor & Gamble is a recession proof stock because of the company's huge array of defensive products. The company operates in the consumer goods industry. P& G is divided into the following segments: Household Care, Beauty Care, Health and Well Being. Proctor & Gamble manufactures detergents, deodorants, shampoos, soaps, lotions, razors, and more. All of these products are must owns. Customers buy these products during economic booms and troughs.
Shares currently trade at 15 times this year's earnings and 13 times next year's earnings estimates. This is in line with competitors Johnson & Johnson and Kimberly Clark. The company's operating margins and profit margins are higher than most competitors. Only Johnson & Johnson has higher margins. Proctor & Gamble has a history of stable earnings and is a stock that investors run to during market drops. This is a low risk investment.
While other companies were cutting dividends over the past few years, Proctor & Gamble was increasing their dividend. P&G has increased its dividend for a remarkable 54 consecutive years. That's no small feat at a time when stalwarts like General Electric and Bank of America were forced to cut their dividends. Proctor & Gamble raised its dividend 10% recently and has a 10 year annual dividend growth rate of 11%.
Right now investors are getting a 3.2% dividend for buying shares of Proctor & Gamble. This is only slightly above the historical dividend payout of 2.8%. The company will have no trouble covering its dividend with the payout being only 44% of earnings. With the company's huge earnings power and solid free cash flow, Proctor & Gamble is one of the strongest dividend paying stocks in the market.
https://www.dividendstocksonline.com/wp-content/uploads/2018/10/topdivlogo.png
0
0
https://www.dividendstocksonline.com/wp-content/uploads/2018/10/topdivlogo.png
2010-08-24 06:56:12
2011-01-03 18:05:23
The Perfect Stock For The Defensive Investor